The global demand for video games is rising consistently, and in 2020 it is estimated to hit a whopping $90 billion. Many popular games of today are based on software systems called game engines, be it for console, PC or mobile devices. A game engine provides a platform to utilize a common set of requirements without composing hundreds of lines of codes, thus saving developers valuable man-hours and creating rapid development of games and savvy solutions.
A game engine fundamentally gives components to draw 2D and 3D shapes, human-controlled character, PC controlled character, destinations, sound, scripting, movement, artificial intelligence, animation, memory, and so on
Before selecting a game engine and scrolling through a list of Unity 3D game development agencies for that, it's important to be fully aware of the features that the game engine has and how they suit your unique game needs.
Unreal Vs. Unity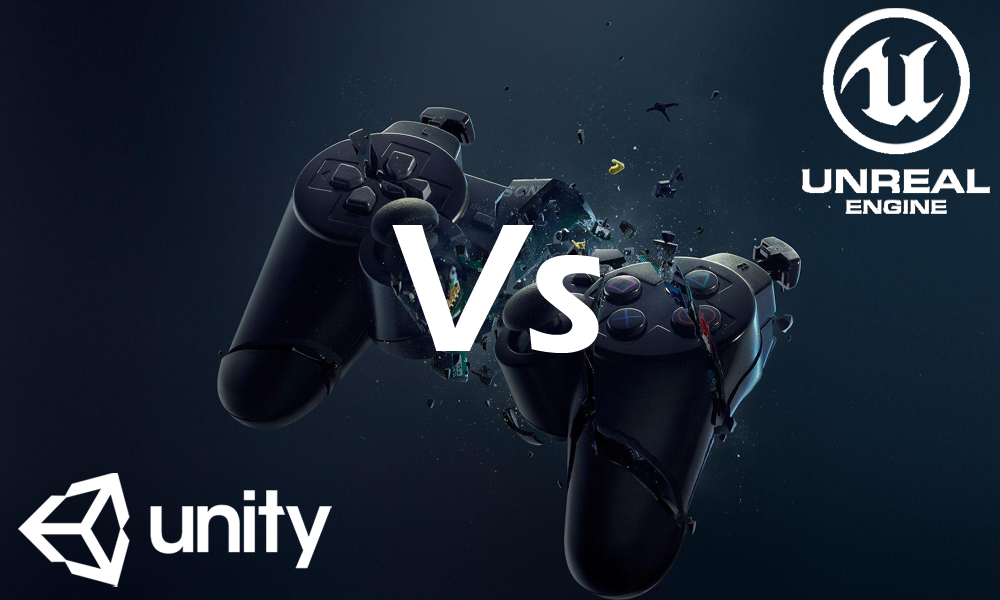 These two gaming platforms are fully integrated programming environments with ease of use and power that allow you to write as much code as you need. These two platforms offer users complete control over the development of the aesthetics and performance of the game. Besides that both support a wide variety of operating systems, making them suitable for the production of cross-platforms.
Epic Games develops unreal gaming engine while Unity is developed by Unity Technologies SF.
With a lot of built-in physics and scripts, they both include a huge number of free, ready-made assets to use. But which one would be better? Let's check it out: 
Performance
Talking about performance, Unreal 4 has robust results as compared to Unity 3D. Unreal's features are comparatively more impressive, such as the game's lighting effects. Besides that, the games in Unreal 4 run quicker. Unreal uses C++, while Unity makes use of C#. C++ has a programming language of "lower rank" which is why dedicated developers of Unity have more power over memory management. Finally on the visual effects and graphic features, Unreal is a preferred choice. 
Adaptability
If you want to make a strong user impact then Unity is the best option. In comparison, Unreal has a major benefit because it is open source. That means developers with knowledge of coding will benefit from it. When it comes to versatility, the Unreal is infinite.
Therefore, both platforms assist a large number of game consoles and operating systems in putting considerable time and energy into doing so. And when there is VR creation Unity tends to be slightly ahead of the Unreal.
Graphics
: 
When thinking about the graphics, Unreal Engine is considered in first place from complex particle simulation systems to advanced dynamic lighting. The reason for this is that Unreal Engine 4 has the ability to really create any visual style (2D or 3D).
When using Unreal software, the ability to move the graphics further depending on the developer's usage is open. With Unity 3D version 5 coming in time, it is supposed to cover the areas it lacks.
Number of Platforms supported: 
Here is the number of platforms Unreal and Unity offers to the developers.
Unity 3D: Windows PC, Mac OS X, Linux, Web Player, WebGL, VR (Hololens included), SteamOS, PS4, PlayStation Vita and Wii U, iOS, Android, Windows Phone 8, Tizen, Android TV and Samsung SMART TV, Xbox One and 360.
Many Unity 3D game development agencies love to work with this platform due to its wide spectrum of supported platforms. 
Unreal Engine: HTML5, Xbox One, PS4, iOS, Android, VR, Linux, Mac OS X, Windows PC and SteamOS.
In several respects both engines are identical. Both are industry-leading tools for the development of games. For certain cases, unity can be the best choice, and in some cases Unreal will be the best choice. Therefore, users can easily decide which one to choose according to the factors we discussed. You can also hire Unity 3D game developers in India or Unreal 3D game developers to understand which framework would suit your gaming needs. 
Why Choose Macrobian Games?
We are among the pioneers in the field of game design and game development, providing start-to-finish solutions. We develop and deploy games across platforms, especially on platforms for PC, Web, Mobile, and Console. Macrobian Games takes pride in making fun, exciting games that break the barrier with the most innovative technologies and latest business frameworks. We're working with the best game engines like Unity and Unreal Game Engines. Hire dedicated developers for unity 3D in India!